Easy Budget-Friendly Meals for Military Families
Written by TeLeah Thurston
"Prior to the pandemic, 14% of military families reported not having enough food to feed their families, compared to 11% of all Americans. The latest reports show that today 29% of junior enlisted military families say they are food insecure."
Like many families with junior-enlisted service members, one of the challenges we've faced is military food insecurity. Due to a limited income, frequent moves and higher cost of living, it's difficult for our family to easily access the food we need to thrive.
Additionally, as food prices constantly increase, our family's schedule does not seem to be slowing down. While it's very easy to get into the habit of eating out on a daily basis, as a family of six, this can be quite expensive for our military family budget. We tend to spend anywhere from $100 to $200 dining at restaurants. That's about two to three weeks of properly-budgeted meals.
So, to keep both our wallet and bellies full, I've come up with these quick, budget-friendly military food recipes our whole family loves.
Military Family Budget Meals
1. One-Pot 'Sauceen' Peas
This meal is a newfound favorite in my family. All you need are 1-2 kielbasa sausage links, rice, and green peas. The best part about this meal is you can make it in one pot, which makes for easy cleanup!
Start by browning your sausages. We like ours a little crispy. Once the sausages are cooked to your liking, add in 2 cups of chicken broth (you can substitute water) and 1 cup of rice. Then, cook as directed. Rice is a great staple to have on hand. We always buy it in bulk because we eat so much of it and it's affordable.
Once the rice is cooked, add in your frozen or canned peas. My go-to seasonings are salt, pepper, garlic and onion powder. Sometimes, I also like to add paprika and parsley. With this easy dish, dinner is ready in less than an hour and the best part is it's kid approved!
2. Movie Night Sliders
Another kid-friendly military food recipe is Hawaiian roll sliders. These are super easy and quick to make when you don't have a lot of time available. These are on constant rotation in our home because the sliders can be prepared with a variety of options. Our family's two favorite ways are with (1) pepperoni and mozzarella cheese and (2) turkey, ham and cheese.
When making this fun and easy meal, first place pepperoni and mozzarella cheese in the sliders, then apply a butter, garlic, and parsley mixture on top. Afterwards, toast them in the oven at 400 degrees for 15 minutes or less.
The second way we love to enjoy these quick sliders is with turkey, ham and Swiss cheese, but with only butter brushed on top. Then, bake at 400 degrees for less than 15 minutes. We typically pair these delicious sliders with a salad or homemade fries (sliced potatoes in the air fryer).
*Bonus: If you want to make the sliders "healthy" you can add in some spinach!
3. Tuna Bake Casserole
This third meal may not be loved by everyone, but it is certainly great for a military family budget: tuna casserole. To create this simple dish, boil a pound of egg noodles and drain. Pour into a 9×13 casserole dish and add in 2-3 cans of tuna, 1 can of cream of chicken or cream of mushroom, and 1 bag of frozen peas and carrots or 1 can of each.
Stir it up and bake in the oven at 350 degrees for about 15-20 minutes. Once done, I always sprinkle this dish with whatever shredded cheese I have on hand at the time. I think my husband and I like this meal much more than my kids!
4. Easy Goulash
This fourth meal is something I grew up eating from the box and maybe you did, too, but it seems like today's boxed version is now in smaller serving sizes. Or, maybe my family just got too large!
Ever heard of Hamburger Helper? Our family's take on this quick and budget-friendly military food recipe is combining a pound of elbow noodles, ground chicken or turkey (you can use ground beef if that's your thing), 1-2 cans of Rotel, 1 can of tomato paste, and at least two cups of chicken broth. Once you brown your meat, you throw all the above ingredients in the pot, cover and cook for approximately 20 minutes (or to the liking of your noodle texture) and season to taste. Voila! Dinner is served.
5. Meatballs with Veggies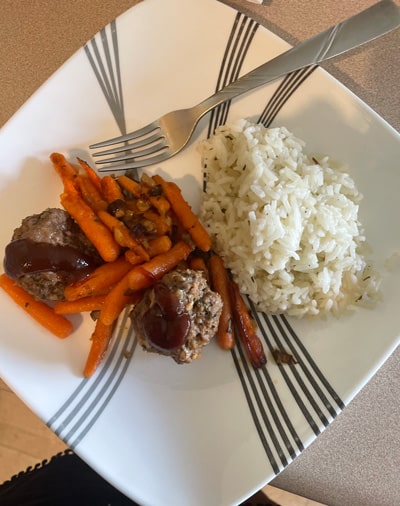 This last meal I want to share was a complete accident that we came to love. One day, I went grocery shopping before eating. I highly don't recommend this when on a tight military family budget. I was walking the aisles adding things to the cart simply because they looked good. Next thing I knew, I had bought a pound of fresh, pre-seasoned meatballs from the deli.
They sat in the fridge for a few days and then I realized I had one day to make them before they expired. At that point, I had pretty much cooked everything I purchased for the week. During this time, my husband was away for training, so it was just myself and the kids winging it every night for dinner.
On this day, I stood staring into the fridge wondering what meal I was going to make (successfully) for myself and four toddlers. Rice, meatballs, baby carrots, and onions. I cooked the meatballs until they were close to being done, then added in the onions and baby carrots. Then, I covered the pot until they were steamed.
While that was cooking, I made rice as directed from the box, but added in butter and herb seasonings. Once plated, I added barbecue sauce to the meatballs (my kid's favorite condiment). Dinner success and no tears!
Food Assistance for Military Families
With limited income and the rising cost of food, military families struggle daily with food insecurity. It's an unfortunate reality for many families and nothing to be ashamed of because we have support. The Armed Services YMCA (ASYMCA) has tremendously stepped up to the plate, providing food assistance for military families and emergency food relief to over 38,000 families and counting in various communities.
Additionally, families unable to qualify for military food stamps and ineligible for the WIC (Woman, Infant, Children) program, can check with their local ASYMCA branch to get more information on accessing the food pantry, which is open to E5 families and below as well as veteran status soldiers.
During these difficult times, the ASYMCA stands ready to serve our active duty service members and their families. When you support the ASYMCA, you help fight against military food insecurity and ensure no family is left behind.
Donate Today